My children returned to school last week, brimming with the experiences, tales and learnings the long summer weeks have delivered but also genuinely full of beans for the knowledge and opportunity ahead in the academic year. And with the influx of new faces RBH has had over the last couple of months, it got me thinking again about the talent our agency is made up from and the varied backgrounds, experiences and life lessons that are the make-up of our teams.
I've said before that talent can come from anywhere and it still stands true. While some recent recruits have tons of traditional learning and excellent proven industry experience, other passionate junior RBHers have started their path with no direct experience at all, and yet they know creative communications is what they want to progress in.
Anyone who knows me knows this is something I take a personal interest in. I've shared previously that as a black, mother-of-two from a working-class background – without a degree – some would say it doesn't stack up that I'm also an Agency Partner at RBH, one of the region's largest and most successful creative communications agencies. Still, my experience goes to show that the school of 'agency life' can be as effective as the more traditional education routes often considered essential to get your foot through the door.
I've worked in creative industries from the age of 17 after I was drawn away from my intended path to university and a journalism degree by 18 months of voluntary placements leading to the opportunity of a full-time permanent role at a now defunct, Midlands agency. This start to my career set the precedent of tenacity, enthusiasm, flexibility, and a keenness to understand the creative process, audiences, and client goals, which have been core to every approach as my roles have evolved.
At the places I've worked, I've also been permitted to bring in the perspective and experience of my background and cultural make-up to audiences. To challenge the narrative and to add to the diversity of the storytelling. The buzz of telling an authentic brand story that really resonates with an audience still gets me now and is proof that the investment in entry-level recruits can be of benefit to both sides. My personal journey hasn't been without its challenges; there is still a stigma attached to being degreeless. But my story is a testament to being able to break into the industry and one of our most recent junior recruits, Shanice, shares my experience of eschewing the degree that wasn't for me and chasing a passion instead.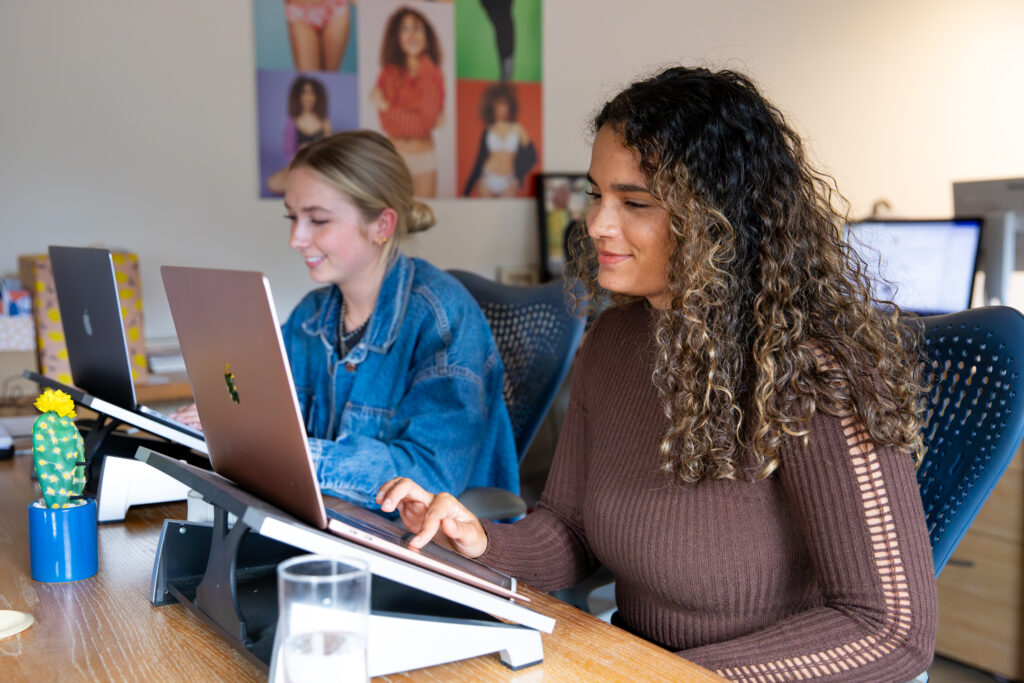 Shanice says…
"My route into this industry was not a traditional one.
I have gone from working in retail, to the fitness industry, to working in education and completing a year at university, before getting a full-time job. I came across RBH while looking into different marketing and PR agencies, knowing that this was something I wanted to get into, but without a degree or industry experience, didn't know was possible. However, with the belief that you can learn and master anything you put your mind to, I decided to send RBH an email asking for an opportunity.
After looking at many job roles in this industry on Indeed and seeing the 'essential requirements' more often than not include a 'relevant degree', it was refreshing to hear Nat's perspective and story, which reaffirmed my beliefs and inspired me. Knowing that people at RBH come from different backgrounds and not only through traditional education, instilled a confidence in me that has really helped me to grow and see my own potential.
RBH to me, feels like a place to develop, collaborate, and share ideas; knowing that whatever your background, whether you have decades of experience or are just getting started, your voice will be heard and valued."
We'd like RBH to continue to have the eclectic mix of people breathing life into our work, making it impactful, authentic, and resonating with audiences. With it, we want to promote meaningful change and create opportunities, especially with so many people struggling even more with the current economic situation.
An agency is only ever as good as its people which is why we will continue to invest in and nurture talent from a variety of backgrounds. So, just like our children who spend the summers playing, exploring, and taking lessons from everything they come across, we understand that learning does not begin and end with school. We draw on our unique life experiences for inspiration in our work. The eclectic mix of RBHers has always been the bedrock of our agency. So, I wonder where we'll find our next cohort? If you are as curious as I am, get in touch with our team today.
… And one final entreaty to PLEASE not miss out on building a career based on your passions because you don't have a BA (Hons) in it.