We recently went to Birmingham Design Festival, this year in a shiny new conference format (which I loved) – a day full of workshops, followed by a day full of talks in a single venue. We learnt a LOT from the varied panel of speakers, like that children's author and illustrator Oliver Jeffers really likes painting ghosts and writing about death (just what you'd expect the kids to love, eh?).
Here's a summary of three key topics from the day:
We all need to make time for play
Outside the Lego offices is a sign that invites passers-by to "please play on the grass." Is there a better example of Lego's brand values? But integrating play into our lives isn't just for Lego employees. Nor is it just for those under the age of 12. Sonal Jhuj, Global Brand Director at the Lego Group, wants all of us to make time for play.
As adults, we tend to disregard play as being frivolous, but Sonal argues that play is agency – it's the conscious decision to pause reality and be in control of a narrative, letting imagination and creativity flourish without the constraints of everyday life. Of course, this is integral to creative businesses like ours, but imagine if all industries embraced the notion of play as Sonal does. Wouldn't we all be better problem-solvers? Better innovators? And probably just better people to be around. Imagine how much joy we'd all get from a world with more "please play on the grass" signs.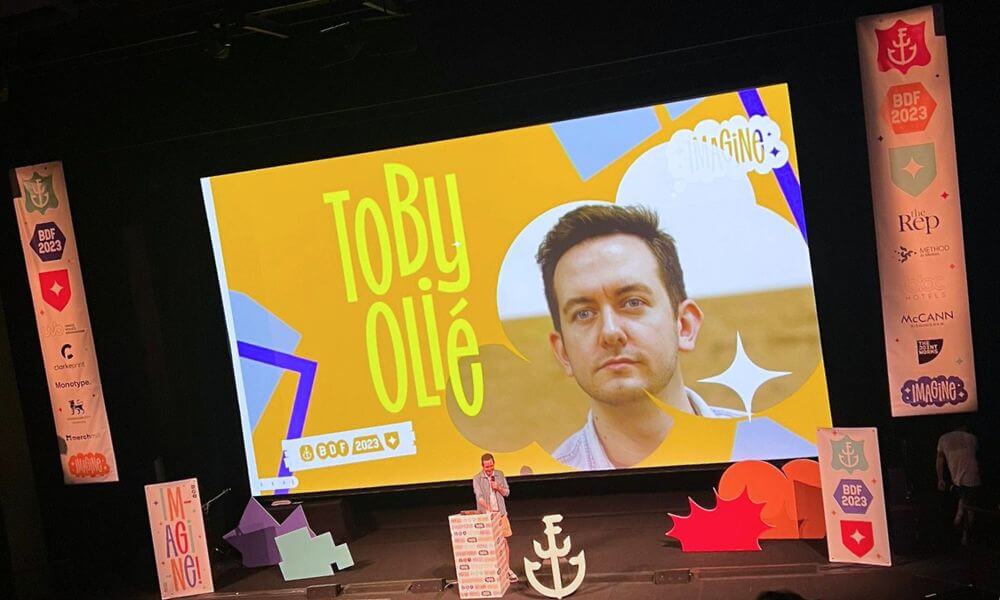 Focus on the positives before the negatives
Presenting creative work sometimes feels a bit like dodgeball. Deflecting criticism and swerving problems, trying to avoid that inevitable shot to the head that knocks you out.
Brian Collins, CCO of Collins, gets around this with a few simple rules that he and his team apply to every meeting. One of which is that the people reviewing the work, internal or external, can only say what they like about it. And that doesn't mean "I like that 'cause my favourite colour's yellow". It means what they like about the way it solves the problem at hand. Often, when presented with a new concept or new visual, we immediately jump to what we don't like. What we don't think will work, the problems that we foresee, the reasons our boss/client/audience won't buy it. But focussing on what's liked provides an immediate path for development. What's not liked is understood by what's not said. And inevitably, will be discussed at some point. But framing each discussion around the positives before the negatives also encourages a productive mindset before any work has even been seen. And as Agency of the Year on multiple award lists, it seems to be a strategy that's working for Collins.
AI isn't going to take our jobs anytime soon… as long as we embrace it.
Marta Cerdà Alimbau talked through the process of creating her cover for Magazine magazine (no, that's not an error, it's a magazine called Magazine) for their issue about trends in 2023.
Nothing could be more fitting for an issue predominantly about AI than an image created by… you guessed it. AI. And although Marta had to enter hundreds of prompts and spend a hefty amount of her own money trying multiple image generation tools, the result was exquisite. She created photorealistic inflated 3D numbers made from various canvas-like materials, which was so impactful it prompted the magazine to request a whole illustrated alphabet from her. But her process to get there illustrates a point Collins made later that day – he emphasised that AI is merely a tool, that we as an industry must embrace and use to our advantage. I mean, if it can't even work out what a number 3 should look like, or how many fingers humans have, I think our careers are safe from oblivion for now. And without Marta's experiences and her trained eye crafting each image, the AI image generator would never have got that result on its own. But if we don't learn to work with it, as AI itself continues to learn, we risk being left in the past, clinging to our dusty Letraset sheets.
These brilliant talks and workshops are only possible every year thanks to the passion and hard work of the whole Birmingham Design team. All of them are volunteers who do this on top of their actual jobs! To them, we give our wholehearted thanks and support for bringing such a vibrant, inspiring event to the Midlands. We're already looking forward to next year's festival. Follow them on Twitter and Insta @designfestbrum.