We were proud to once again sponsor the annual Birmingham Design Festival, and even prouder to take part in it by hosting portfolio surgery sessions. Anyone could book a slot and get some time with two of our Creative Heads to chat through their work. A theme that came up again and again was panic – 'how do I get a job?!' Well, we've all been there. We know it ain't easy! And it's probably tougher than it's ever been. But don't feel disheartened. We have a few tips for curating your portfolio and landing that creative role.
1. CRAFT
The way you present your portfolio is itself an example of your work
It reveals how much you understand design for communication and gives an insight into your personality. After all, you're selling yourself here. Is your style more structured and slick, or are you more playful and experimental? There are no rules to a portfolio (some people might say otherwise, which just proves the point), so don't be afraid to make it unique. What makes you you is a powerful tool in your armoury, so the more you lean into it, the better.
Typesetting is important! Understand how to set type and apply that knowledge to your folio, and you're already ahead of most of your competitors. And please, spellcheck or get a friend to read it.
Yes, it's agonising, but adjust your portfolio for whoever is going to see it. Even if it's just a PDF version of your website that's been rejigged based on the specialisms of the person or agency you're presenting to. It shows you understand their business and your potential role within it. If they've already seen everything on your website, do you have anything else they haven't seen yet that you can talk them through in an interview?
Don't be scared to show your process and thinking, or at least be prepared to talk about how you achieved the finished result. If you don't want to show the process in your folio, bring extra bits along to an interview with you. This could swing things your way if you're being compared to someone with a similar skill level to you.
It'll never be perfect – you'll be working on your portfolio until you die. So don't wait until it feels 'done' to show it to people.
2. CONTACTS
Be a nuisance
The reality is, part of finding a job is just good timing. That's why you have to keep reminding people you exist – at some point, the timing will be right and they'll have work for you. Until then, just keep in contact with people and make connections in the industry. 'Networking' sounds cringe, I know, but it'll increase your likelihood of bagging a job tenfold. As Aries Moross said, we make our own luck. So, make a list of companies/brands/agencies you want to work for or with. Find out who works there via LinkedIn or their websites. Get in touch and ask them for portfolio reviews. Let them know you liked a recent piece of work. No response? Email again (9/10 times they meant to but forgot or were too busy). If they do respond? Make sure you reply and say thank you. Find a mentor. Be an active part of the design and advertising community, both online and IRL. No response again? Try a different platform – if they didn't respond to an email, try Twitter or LinkedIn. Just don't turn into a stalker. And this all leads onto our next point…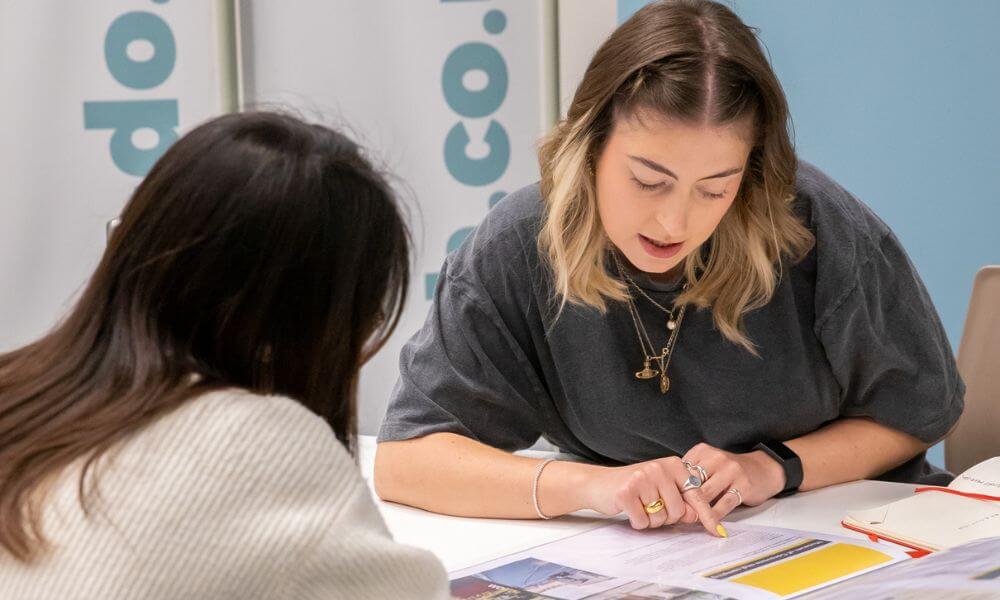 3. COMMITMENT
Be resilient
A career in creative is a career of battles. Of fighting to be noticed, fighting to protect ideas, fighting to be relevant. It's natural for your passion and enthusiasm to dwindle the more knock-backs you encounter. But you have to be persistent – keep banging on doors, keep emailing, keep trying. It'll happen eventually. As Creative Director Shaun Loynds says, energy works harder than talent. Talent alone will get you so far, but you need tenacity to really succeed and deliver creative opportunities.
And these tips aren't just for graduates and job seekers. We apply them day-to-day in our creative practice. And if you are looking for a creative job – get in touch. We may not have open roles right now, but we're always willing to help however we can, whether it's a portfolio critique, or a point in the right direction.